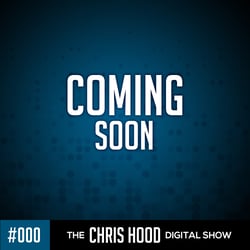 Hey everybody, I'm Chris Hood and I have some exciting news to share about what I've been working on for the last few weeks. Yes, a new podcast. It's The Chris Hood Digital Show. This podcast is all about exploring innovation, transformation, and digital acceleration.

In each episode, I will be speaking with global business leaders and industry technology experts, exploring their unique perspectives on the digital world and what it means for us all. We'll be discussing everything from the latest tech trends and customer transformation strategies, to the impact of technology on our lives and businesses.

Trust me, you don't want to miss the premier episode and what my guests have to say – and I suppose for today, I'll break one of the cardinal rules of podcasting — mentioning a date! The first episode is launching on March 13th, and I can't wait for you to tune in. We've also recorded our first 5 episodes covering AI, FinTech, Data and more. Whether you are a tech enthusiast or a business professional, I promise this podcast has something for everyone.

And, I have a favor to ask of everyone. If you know anyone who would make a great guest on the show, an executive who has a unique story to tell or valuable perspective to share, please send me a message or comment below! I would love to have the opportunity to feature more voices from within our network.

Your support means the world to me and helps me to continue bringing engaging and thought-provoking content to you. To learn more, stay in touch with me on my website at chrishood.com, hit the podcast link, and subscribe. And please, share the podcast with your friends, family, coworkers – or anyone else you believe would love to learn more about growing their digital business.

Ok, So mark your calendars for March 13th and be sure to tune in for the premier episode of The Chris Hood Digital Show. I'm looking forward to having you join me on this exciting journey…and as you'll soon hear again – your digital evolution starts now!

Thanks everybody!
Share