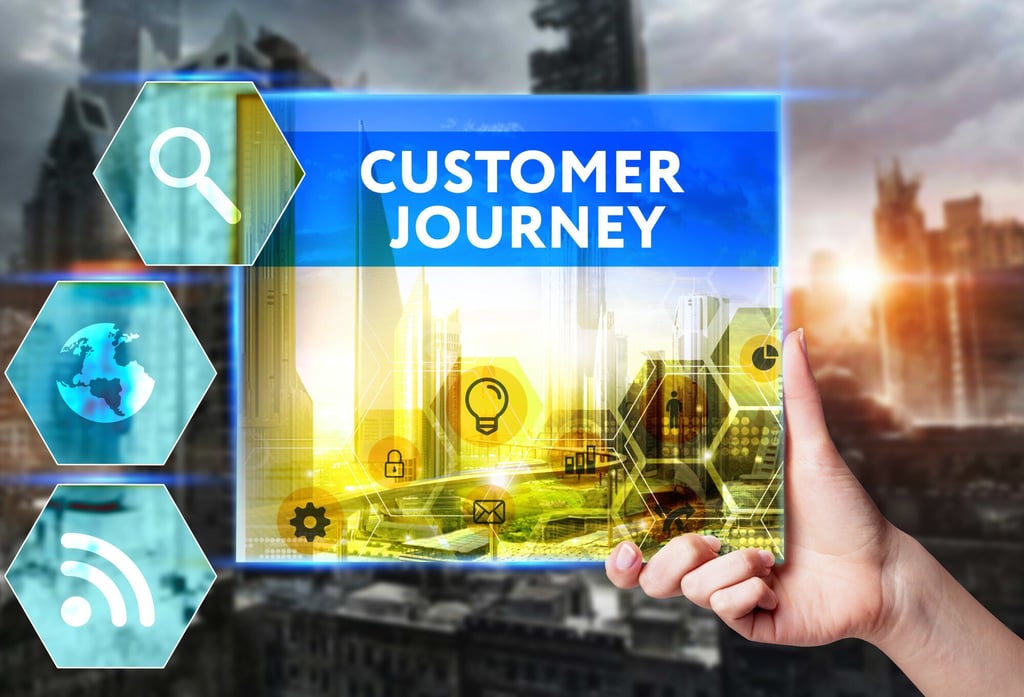 As UX and business strategies collide, experiences become more complex. Some have even said that over a quarter of large enterprise apps will be multiexperience by the year 2023. But why is that important, and what do you get for embracing that?
This article will help you understand what multiexperience is, why it is important and how you can apply it to your business. So, read on to learn about why multiexperience is the future of customer journeys and business value.
What Is Multiexperience?
Multiexperience refers to the various combinations of modalities (e.g., touch, voice, and gesture), devices, and apps that users interact with at their various points during their journey. It's not exclusively digital but refers to the cross-section of physical and digital experiences.
The concept of multiexperience appeared in the world due to talks by Gartner in 2018. These talks discussed how to improve how companies interact with customers on the Internet of Things.
The talks focused on the fact that new technologies are becoming a potential avenue for interaction with a customer. They posted that companies should look into these technologies to provide a better user experience.
In short, the use of several different communications methods, or touchpoints, can serve a customer better. This is in comparison to having many communications methods that resolve into different systems.
This includes allowing the customer to interact via chatbots, wearables, or even augmented reality. As VR and other experiences become more viable, companies should also invest in these.
The conclusion was that if you fail to take multiexperience onboard, you will end up falling behind. This is because you will continue to use traditional, stagnating methods of user experience. Meanwhile, your competitors will be making use of AR, chat-bot, voice control, and wearables to create a more holistic experience.
Why Is Multiexperience Important?
Multiexperience and business value go hand-in-hand. It can provide significant benefits to your company as it gives better interactions to your customers. Some of these benefits are listed below
Increased Security: With a multiexperience platform, you can make sure your security focuses on one place. You do not need to keep an eye on several different systems, reducing potential risks to your digital security.
Lowering TTM: You can reduce the amount it takes to develop systems by making use of multiexperience. You do not need to develop whole new processes with each extra experience, as you can instead build on the processes you have already made.
Streamlining: Incorporating multiexperience means that your operation can become streamlined through one system. You are no longer required to make use of several different systems that may need to be cross-referenced. Instead, all communication can go through the same system but with different interfaces.
If you streamline your process, you can then run faster and more efficiently. This saves you money and provides a better experience to customers. They will no longer need to move between different departments or systems to resolve their issues.
How Does Multiexperience Work?
Four main verbs encompass how multiexperience works to enhance customer journeys. Advocates have discussed these ever since multiexperience models were first explored. Developers chose them because of their ability to improve a user's experience with your platform.
The verbs are as follows:
Synchronize: Store users' information based on their experiences so that you can use them in the future for any number of reasons. This includes using this synced information for the other verbs.
See: This means to have an understanding of the context of a user's interactions with your platform. This may include their location, the apps they use, or the situations they find themselves in when using the account. Also, it includes being able to process the historical use of the application to analyze it later.
By "Seeing" a user, you can move forward giving them better information and better interactions.
Know: To know a user is to use the information you have attained from "Seeing" them to making decisions to improve their experience. You can use predictive analytics, for example, to start to make suggestions for the user in the future. The benefits of this are twofold.
First of all, suggestions can speed up a user's time they spend interacting with your app.
Second, they can introduce the user to aspects of the application they may not have seen before. This allows the user to have a fuller and more complete experience.
Be: With a well-programmed multiexperience product, you can start to act on a customer's behalf. With explicit permission from the customer, you should be able to make decisions that fit their habits. You can do this by understanding the actions they are going to take and saving them time in the future.
Is Multiexperience Useful In Retail?
During the global COVID pandemic, retailers have taken an effort to improve their holistic user experience. They now encompass a wide number of new technological avenues.
For example, retailers now make use of mobile and web apps, including on both PC and smartphone, to interact better with customers. For example, you can now do any of the following using apps such as smartphones, web apps, wearables, or even AR experiences:
Personalize and predictable customer experiences
Add items to your grocery list 
Communicate with customer service for retailers 
Check the stock of a particular item
See which store has the item you need so you can travel there
Handle your electronic shopping cart
As COVID has affected the future of the customer journey so much, it is unlikely it will ever move back to the way it was before. The pandemic accelerated how fast developers have implemented these digital channels. This will not slow down or reverse soon, and if anything is only likely to increase moving forward.
The future is multiexperience, and we should all catch up or risk falling behind.
Where Can I Learn More?
You should now have a much better idea of what a multiexperience product should provide users. Although, if you are still unsure or have further questions, you are always welcome to ask.
I love to speak out about digital platforms and help people learn what is being used in the world of technology. So reach out to me anytime and find out more about what I can offer.
Share