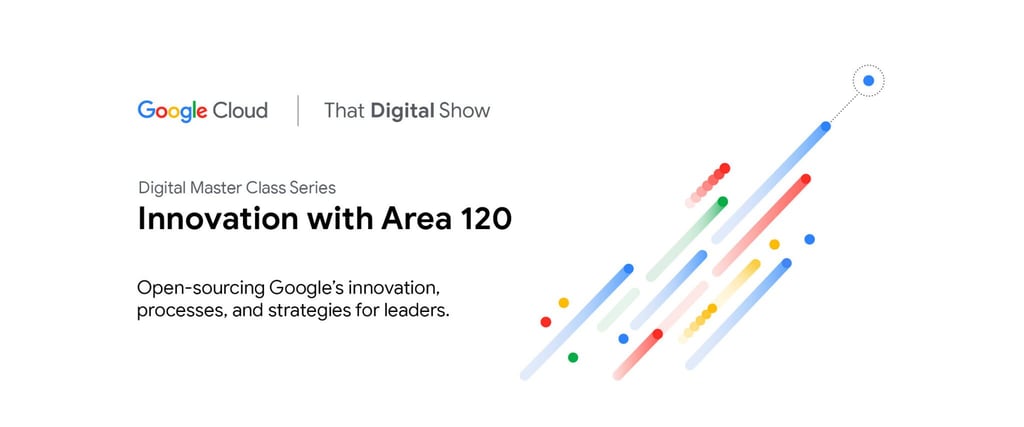 Many of Google's best ideas begin as experiments or passion projects in Area 120, Google's in-house incubator. At Google Cloud, leaders often ask for practical lessons for empowering large distributed workforces to find, fund, grow, measure, and launch new product innovations that drive business and customer value.
In this five-part podcast Digital Master Class series designed for technology leaders, we set out to 'open-source' Google's lessons learned on growing cultures of innovation, setting 10x product visions, driving organizational transformation, and leading people through the art of the possible.
We've bottled these insights into practical and actionable learnings to support your technology, organizations, and people through cloud digital transformations.
To kick off the series, Chris Hood and Natalie Piucco team up to chat with Paul Lambert, Partner at Area 120, and take a peek behind the curtains of Google's in-house incubator, where Googlers work on 20% projects 100% of the time.
Special Guests
Hosts
Chris Hood – Head of Business Innovation & Strategy, Google Cloud
Natalie Piucco – Cloud Technology Strategist, Google Cloud
Resources
Other podcast episodes you'd enjoy
Connect with us on C2C and share your thoughts about this episode
Products Discussed
The deliberate action of working on a positive culture is one of the best things a leader can do.

Chrfis Hood
Do you have something cool to share? Have questions?
Connect with us
Share